According to a statement released by the Department of Health on Sunday evening (26 April) 185 new cases of Covid-19 had been reported, increasing the number of confirmed cases to 4 546. Another virus-related death in the Western Cape brought the country's toll to 87.
The number of tests carried out had decreased from 8 614 on Saturday to 7 639 today, said the department. In total, 168 643 tests had been conducted since the outbreak of the virus.
The provincial statistics are as follows:
Globally, as of 8.30pm today (April 26), the number of confirmed positive cases stood at 2 954 106, with 205 607 people having died. The United States of America had recorded both the most number of positive cases and the most number of deaths, at 956 292 and 54 175 respectively.Department of Health✔@HealthZA
26 April 2020 As at today, the total number of confirmed COVID-19 cases in South Africa is 4546.The total number of tests conducted to date is 168 643, of which 7 639 were done in the last 24 hours.The provincial #Covid_19 #CoronaVirusSA #CoronaVirusUpdate Here is the breakdown: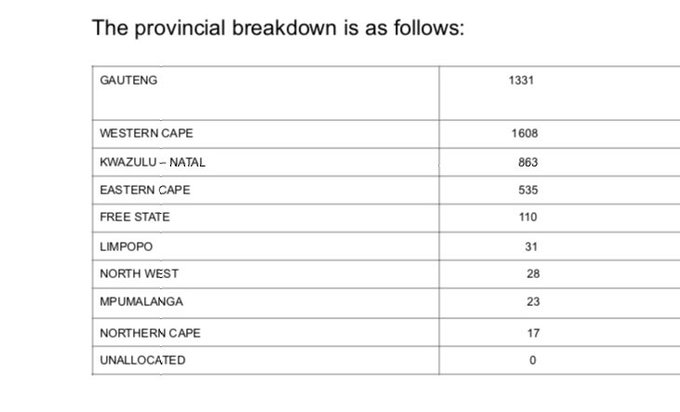 134Twitter Ads info and privacy156 people are talking about this
Dear reader,
Coronavirus reporting by Kormorant in partnership with Caxton Local Media aims to combat fake news.
As your local news provider, we have the duty of keeping you factually informed on Covid-19 developments. As you may have noticed, mis- and disinformation (also known as "fake news") is circulating online. Kormorant is determined to filter through the masses of information doing the rounds and to separate truth from untruth in order to keep you adequately informed. Kormorant follows a strict pre-publication fact-checking protocol. A national task team has been established to assist in bringing you credible news reports on Covid-19.
Readers with any comments or queries may contact Kormorant editor Deon van Huizen (deon@kormorant.co.za), National Group Editor Irma Green (irma@caxton.co.za) or Legal Adviser Helene Eloff (helene@caxton.co.za).